Roughening
Polishing
Cutting off
Surface finishing
These are just a few examples of the applications of our range.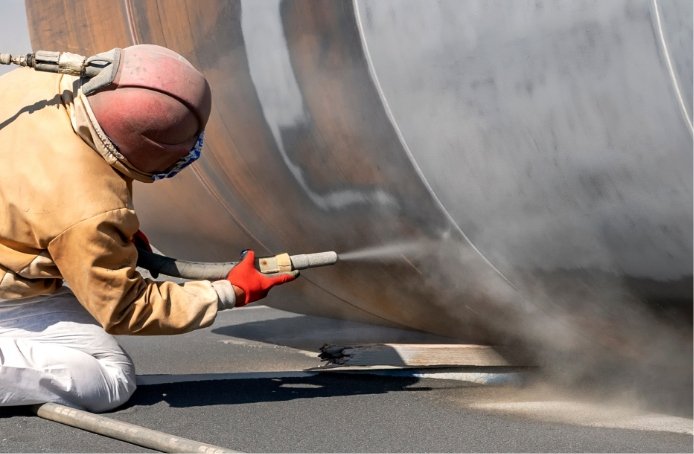 Surface roughening
Rough blasting of surface before final surface treatment increase basically the adhesion of final layer and prolong markedly the lifetime of this final surface treatment.
Slip resistant surface treatment
Standards and rules concerning slip-resistant floor treatment are a part of floor-making in many industry areas and branches. Addition of small amount of abrasive material (corundum or natural garnet) into last floor layer can guarantee slip-resistant surface.
Deburring
By the machining, turning, material cutting etc. ricing burrs, which worsen the reliability performance of products. Blasting is the quickest method how to remove this unwanted inhomogeneity.
Coating removal
By coating removal from work pieces blasting remove old or damaged layer of paint to prepare parts for next step of surface treatment. The main branch of this application is restoration of old cars, machine and construction maintenance. Our high quality and repeatable usable blasting media enable you effective and radical removing of coatings from different parts, different work pieces.
Rust removing
All metals incline to oxidation. Rust must be radical and quick remove from the oxidation surface. There are many different methods for this action, but blasting technology has many advantages in comparison to other methods. This technology is careful to environment surroundings, is exact, quick and wary.
Facade cleaning
Building facades are under daily influence of surroundings. After certain period there is some spotting, dirty surface. With natural blasting media is possible to renew facade design/look, ecological and without any chemical agent.
Soft blasting
Soft blasting is a method of solid cleaning of work pieces without damaging or stock removal of the part. Main goal is to make surface smooth and homogeny.
Matt and satin finishing
Matt and satin finishing is a method of final surface treatment. Important is in this case the look, visage of product. For this technology you should use very fine and exact classified blasting media.
Surface treatment
Surface treatment is usual the last operation in the whole production and machining process. Accent is on the look of product, which should be high quality not only in the technical point of view, but in the visage too. In some case the blasting process is the final surface treatment method. Right choice of blasting media is in this case very important and necessary.
Surface treatment before coating
Blasting technology prepare the surface for next step of finish coating or other surface treatment. Adhesion between surface after blasting and final layer is considerably increased by using of sharp blasting media. Roughness of surface after this technology increase the surface and thereby the adhesion.
Polishing and lapping
For final polishing or lapping we use the top quality micro grits. Company ABRANOVA can deliver you large assortment of blasting media, which correspond with requested specification.
Soft blasting – Sweeping
Under word "sweeping" we understand technology of soft blasting, sometime known as "brush away". By this technology the blasting process is made under very closed angle. This technology is applied by material with zinc layer, with very fine blasting media and low pressure. Reason is to make very fine roughening of surface without damaging of zinc layer.
Surface hardening
Shot peening or shot-blasting is technology which use rounded blasting media. This technology is applied for removing of internal stress in the product and to increase mechanical properties and lifetime of product. Typical items for this technology are springs, cog wheels, turbine blades, etc.
Structural blasting
Structural blasting is a technology to achieve homogeny surface in required roughness with accent to technical and visual requests.
Water jet cutting
With addition of natural garnet to the water jet is possible to cut extreme hard materials without heat generating. Mixture of water and garnet is running near to sound speed and by high pressure up to 6 400 bar. This technology is characterized with high accuracy and high cutting speed.
Wet blasting
Wet blasting should provide perfect and in the same time very soft cleaning, especially by blasting of alumina parts (f.e. engine head). Company ABRANOVA supply special blasting media designed for this kind of technology.